This last week, I drove along U.S. 60 on a sunny day… with a temperature in the high 60's. While passing through Kenova, West Virginia, I steered around a bend in a city street, and across the railroad tracks, saw a baseball stadium- a small one. I figured it to be possibly a Single A ballpark. But, as luck would have it, I had found Mitch Stadium, one of the coolest Little League ballparks I have ever seen in person. 
I was immediately transported back to age 10, and could only have wished to have been able to play in such a venue. In my mind, with the old brick wall surrounding the grass, which is already greening up for the year, the ball must have sounded better off the bat, and flown that much farther.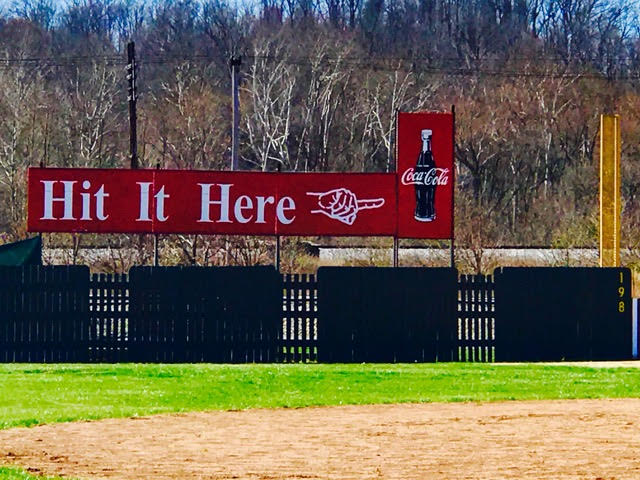 From behind the home plate stands, I could smell the popcorn and hear the crunching of the ice as the metal scoop went down into the bin and then back up to fill the paper cup. And then, the smell of the heavy syrup from the soda fountain floating on the breeze of a warm summer night as the Coca-Cola or Red Crème Soda filled the cups lined on the stainless counter. Outside of the window, a glow of the yellow colored light bulbs, burning beside the concessions, providing just enough light to see the insects swirling around in the golden haze.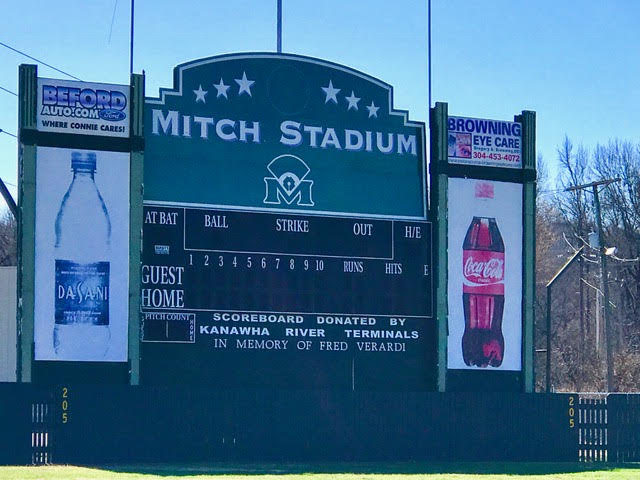 In the midst of all of this, I could see the scoreboard being lit up with hits, runs, errors… advertisements! The Announcer's way-too-serious and deep voice rumbling over the multiple speakers and echoing off of the right field billboards. Oh, what a terrific sight. And the sounds- the symphony of summertime; a crowd of parents and also of the community humming at a low rumble… until the CRACK of a bat, and the cheering growing louder as the bases were rounded….
Another run batted in! 
In reality, the closest that I ever got to any of this was winning a trophy around 1983 as a member of the "Runners-Up" for the City Junior League Championship. That year, that team, that evening, that time… was the nearest I would ever come to perfection and in possibly winning anything having to do with sports. Our team LOST the game, but I won- in so many ways. 
In that game, I played third base, and was not afraid to "get down in front of the ball"- as it came blazing down the line off the bat- the HOT CORNER they called it, and then… the long throw over to first. But, for a short time in my life, I was excelling at something. So anyway, I'm playing third, and also in the batting line-up. I think in that championship game, I hit a single and then… in the last inning or so of the game- a TRIPLE, with two runs batted in- by ME!
Then, I was standing on third, and I think that I must have represented the tying or winning run. Sitting here tonight, 30 – 35 years later, my memory is forever frozen in that moment. It was stopped for some reason, possibly as a means of protecting my young psyche against some damaging loss. I don't remember what happened next, how many outs were against us. I don't remember what the score was. I don't have any earthly idea of how or when I left my spot standing on the bag at third. 
And then- the game was over.
All of this. Everything… is baseball at the purest of levels. It was here at one time, and will soon be here again. It was here for me, and it will be here for another youngster. It will remain this way for scores of players yet to find their way to a diamond inside of a chain link fence and onto the freshly mowed grass. All that was needed, and all that is ever needed for baseball- is April 1 in Cincinnati, and then the feeling flows out throughout the Midwest and over towards the East coast and then back out West- where it's always warm anyway.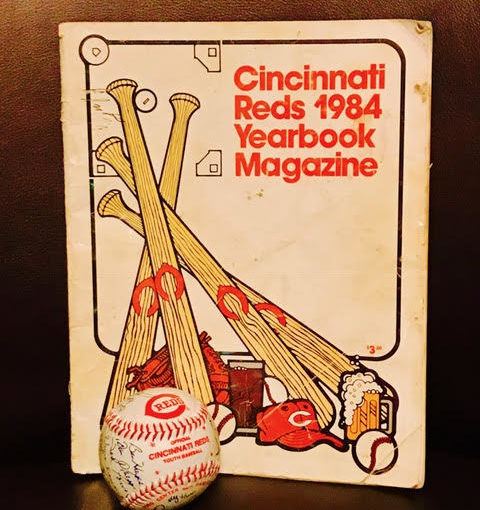 I do remember shaking hands with the winning team, the Champions, telling them "good game". I do remember going to the old City Country Club and having a pool party, given to us by our Coaches for accomplishment of our tremendous effort. It didn't matter then, and it really doesn't matter now, that I was a "Runner-Up"… because again, I had a terrific game! In fact, the game we had just lost was probably one my personal best games… ever.
I still carry that night with me, stored away deep in my vault, and when I need to, I can remember it. Possibly, it remembers me… I'm still standing on third, waiting to be batted in. I'm ready to run. I'm ready to win. 
And that's baseball. That's life. That's the bitch of it all. Even though everything is supposed to be a "team sport" and there is no "I" in team… Everything still revolves around how we view our individual efforts. 
I simply have to do MY best, and let the chips fall where
they may.
"Hit It Here" photo taken by Jon Patrick Sage at Mitch Stadium.