For any in and around Southern Indiana, The Boogie needs little or no introduction! It is the premier Biker event, and has been around for a long time… we don't see it going anywhere but HERE anytime soon.
The Boogie is going on NOW (July 20-23) at Lawrence County Recreational Park. Get out and get your boogie on- OR- if we miss you this year, be sure and show up in 2018.
LIKE & SHARE Us On Facebook, and Follow Us On TWITTER, and keep up with this and other events at RideMyHighway and the A.B.A.T.E. Website–
"The Boogie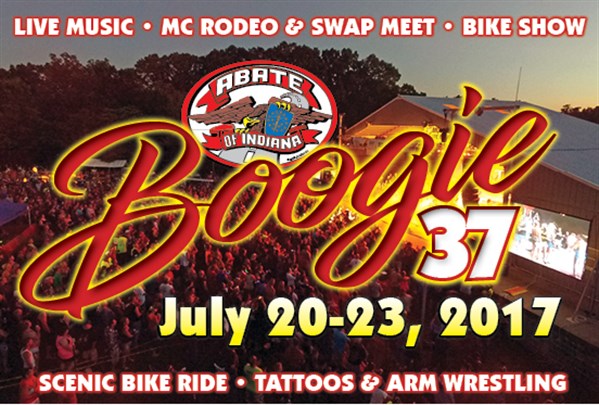 2016 Boogie photos  |  2015 Boogie photos  |  2014 Boogie photos
---
Lawrence Co. Recreational Park
99 Moore Lane, Springville, IN (Located 12 miles south of Bloomington, Indiana,
west of State Road 37 Marathon station)
Locate on MapQuest | Get directions from your location
(GPS Coordinates: Latitude 38°59'19.59″N, Longitude 86°36'40.78″W)
Click here for a map of the Boogie property
Click here for a downloadable Boogie poster
For more information, call 800-23-ABATE or 317-422-8040 or email.
---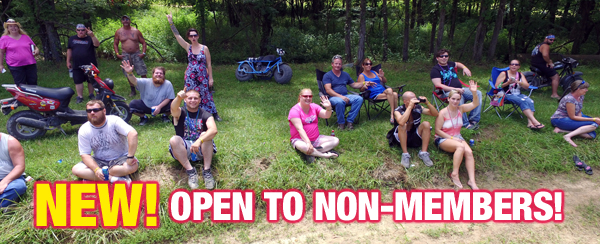 NEW! Admission
$40 per person (ABATE members*). Non-members $60 per person.
NEW! Saturday Only Admission
$25 (ABATE members*), $35 non-members. Starting at 7:00 AM, July 22.
ADMISSION INCLUDES
FREE TENT CAMPING, FREE SHOWERS, FREE MOTORCYCLE PARKING, and entry to all events.
*To be eligible for the member admission you must be a current member of ABATE of Indiana or other recognized state motorcyclists' rights organization (must show proof).
No one under 18 allowed, EVERYONE must show ID.
VISA and MasterCard accepted. No checks.
---

---
Parking and RVs
Cars and trucks $10; trailers $10; campers and buses $75
(tent camping, motorcycle parking, and shower facilities included with admission)
RV campground spots (some with hook-ups) are limited in availability ($150 primitive, $250 water only, $400 water and electric, $500 front row with water and electric ).
RV reservations are closed. Any remaining spots will be available to purchase at the event.
On-site shuttles to haul your gear
Shuttles are available to haul your gear from the parking lot to your campsite.
---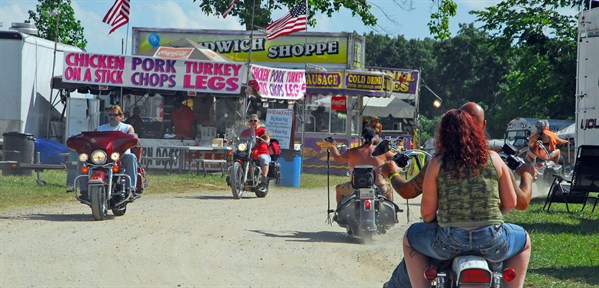 Rules and More Information
Campfires will be allowed, if it's not too dry.
No pets allowed. No cars or trucks are allowed in the camping area.
NOTE: No glass bottles are allowed in the big top tent area.
No Golf Carts or ATVs Allowed
No golf carts or ATVs allowed unless you are disabled and can provide documentation (ie. state issued handicapped registration) and pre-approved. Requests must be made by June 30th via email, fax (317-422-8373) or mail to Boogie Disability Request, PO Box 665, Bargersville, IN 46106.
 Vendors If you would like information on being a vendor at the Boogie, please contact Herb Archer (food vendors) archerhl@yahoo.com or Mike Strode (all other vendors) mnstrode@yahoo.com.
If your band is interested in playing the main stage at the Boogie please submit an EPK to amemusic@sbcglobal.net. All day stage bands are selected by local region competitions.
---
The Boogie is ABATE of Indiana's annual fundraiser. All proceeds go directly towards ABATE's efforts to preserve and promote motorcycling throughout Indiana. The Boogie is a registered trademark of ABATE of Indiana, Inc. All rights reserved.
All proceeds go towards ABATE's non-profit activities
Schedule of Events
All dates and times are subject to change.  Anything in parenthesis is the location of the activity. Please refer to the Boogie map for locations.
Thursday, July 20
8:00 AM — Gates open
8:00 AM — Shuttles start
7:30 PM — Agents of Chaos (Main Stage)
9:00 PM — Taint'd (Main Stage)
10:30 PM — Great White (Main Stage)
Friday, July 21
1:30 PM — Spoilers 3 (Day Stage)
2:30 PM — Hole Shot Contest sign-in (Circle Track in Thunder Alley)
3:00 PM — Alaniz (Day Stage)
3:00 PM — Arm Wrestling sign-in (Boogie Dome)
3:00 PM — Hole Shot Contest (Circle Track in Thunder Alley)
4:00 PM — Arm Wrestling begins (Boogie Dome)
4:30 PM — Soul Shine (Day Stage)
5:00 PM — Buns Contest sign-in (Boogie Dome)
6:00 PM — Buns Contest (Boogie Dome)
7:00 PM — Liverpool (Main Stage)
9:00 PM — Fan Halen (Main Stage)
11:00 PM — Hoosier Honey Contest (Main Stage)
Saturday, July 22
9:30 AM — Boogie Run sign-in (Motorcycle Memorial)
11:00 AM — Boogie Run (Motorcycle Memorial)
11:00 AM — Bike Show sign-in (Motorcycle Memorial)
12:00 PM — Nothern Kind (Day Stage)
12:00 PM — Motorcycle Rodeo sign-in (Party Town)
12:15 PM — Bike Show Judging (Motorcycle Memorial)
1:00 PM — Motorcycle Rodeo (Party Town)
1:30 PM — Bailout (Day Stage)
3:00 PM — Wyldesyde (Day Stage)
3:00 PM — Tattoo Contest sign-in (Boogie Dome)
4:00 PM — Tattoo Contest (Boogie Dome)
7:00 PM — Tightrope (Main Stage)
9:00 PM — Dishwalla (Main Stage)
10:00 PM — Marcy Playground (Main Stage)
11:15 PM — Fuel (Main Stage)
Sunday, July 23
4:00 AM — Shuttles shutdown
12:00 PM — Event closes"