Many have speculated for quite some time whether or not the Student Loan situation in the United States has any resemblance to the so called "housing bubble" which threatened to collapse the world economy in '08. Based on some very basic information, some of which is so readily available it is truly scary, I would tend to concur that some kind of ultra scary scenario looms on our collective horizon.
The culprit- Cheap Money that is accessible by virtually anyone, many of whom have no way and/or inclination to EVER pay that money back. 
Student loans operate not only to pay tuition, but also strive to give college students some means for sustenance while living on campus. This is often accomplished in the form of REFUNDS paid back to the student. These refunds are overages in the amounts of tuition/books, and have become increasingly commonplace.
As an example, A college student, and these amounts vary greatly, might be approved to borrow up to… say $12,000 per semester. And so, they apply for and are awarded the $12,000. Meanwhile, their books and classes might only be around $4,000, their room and board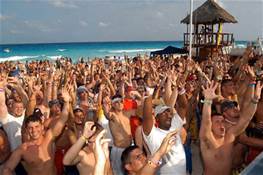 another $3,000… So- they receive, a few weeks after registration, $5,000 in their bank account, to be used for "educational expense".
Some goes towards educational expenses, and of course, the definition of education expenses is entirely relative to any number of situations. In the following article, Spring Break is a much needed, and I might add costly, educational expense.
Enjoy it kids—- When the free ride is over, it will be akin to diving into an empty swimming pool, without the benefit of that 85 degree and sunny Tequila buzz!




"By Polly Mosendz
May 20, 2016 7:08 AM
Can You Use Student Loans to Go On Spring Break?
CANCUN, MEXICO – MARCH 15: A general view during Victoria's Secret PINK Nation Spring Break Beach Party …
The essential college experience requires all-nighters at the library and, to some, a keg stand or two and a less-than-lucid spring break vacation. And, much like a degree, tequila shots and beachside hotels don't come cheap.
About one in five American students graduating this year who carry debt said they used student loans to pay for expenses like vacations, dining out, and entertainment, according to a poll conducted in early May by Google Consumer Surveys on behalf of Student Loan Hero. Undergraduates finishing college in 2014 owed an average of $28,950 in student debt, the result of loans taken out to cover both tuition and living expenses.
But when is it living, and when is it living it up?
Beyond tuition and housing, cost-of-attendance expenses that can be paid for with student loans include books, school supplies, transportation, and "miscellaneous personal expenses," according to the U.S. Department of Education. Asked whether that covers vacations, the department said it would look into the matter.
Both private and public lenders first pay the university for tuition and, if applicable, dorm expenses. The remainder of the loan is doled out to the student, usually in a lump sum, said Mark Kantrowitz, the publisher of Cappex, a website that offers prospective students information about universities and scholarships and a member of the editorial board of the Journal of Student Financial Aid.
"If someone is using it for something like going out on a date, to see a baseball game, it's not a legal violation," he said. "Once that money is in the student's hand, there is no control to ensure that they're spending it on textbooks, apartments, or food. There's nothing to prevent them from buying an iPad, and technically an iPad might be OK."
How about spring break, or a six-pack? Kantrowitz said it might violate the letter of the lending contract, but the student wouldn't face repercussions.
A graduate of Texas A&M University–Commerce, Eric Hazard would receive a check of $4,000 to $5,000 after the lender paid the school for tuition. The checks "were celebrated across the campus as almost like a bonus for being a college kid," he recalled. "[Students] would go directly to the bank to cash it. I bought electronics for my dorm room and drinks were on me for a month or two. In an abstract way, I knew I would have to pay it back. But you don't have a timeline in your mind about what that was going to look like. I just knew it would happen later."
To prevent students from blowing through the loan too quickly, Kantrowitz said, some schools offer alternative payout schedules, such as monthly distributions.
"We are moving to experiment to disburse funds over a longer a period of time, which might work for some students but not other students," said Justin Draeger, president of the National Association of Student Financial Aid Administrators. "Schools are supportive of the ability to be flexible."
Because most expenses come at the beginning of the semester, the slow-burn payout might prove impractical. Ultimately, the solution lies in further educating students about the purpose of their loans and in responsible money management, Draeger said, noting that students, inevitably, will make mistakes.
"To me, it's not the proper use, but taxpayers aren't necessarily being ripped off by a small number of students who are mismanaging their money," Draeger said of students who use loans for vacations. "Federal loans and private education loans get repaid. I'm not saying it's not a problem, but if we overreact to the problem, I'm not sure we create any real solutions. The whole idea of student aid is to get people who would otherwise not have attended into college. If we put too many barriers up, we squeeze out those at-risk, on-the-fringe students."
For students dead set on a spring break blowout, or just a trip to Señor Frogs, the options are usually to take a part-time job, plead with relatives for spending money, swipe a credit card, or use a portion of the loan disbursement check. In the absence of a gig or a wealthy grandma, the kids are left to pick between two kinds of debt.
"If taking on a little bit extra in student loans means they get to live the life they want to live and be a happy person, then it can be worth it," said Erik Almon, director of financial planning at the Society of Grown Ups, a Brookline, Massachusetts, financial literacy group. Almon stressed that students should plan their post-graduation payback plan in detail and, if at all possible, refrain from taking on high-interest credit card debt.
"Using student loans is a smarter decision. It gives you more flexibility if you do find yourself stretched to make payments. There are a lot of payment plans that give you flexibility and help you get by after graduation," he said.
As a senior, Almon was given a loan check of $1,500. He took a third of it and planned a spring break vacation.
"When I got out of school, those first couple years, working and paying down those student loans…it was kind of painful," he said. "Even though I was making some sacrifices to pay that money back, I do not for one second regret that money I spent to go to Cancun.""