As I travel about, I am constantly scanning the horizon and intersecting roads for remnants or clues of where the "old road" used to lie- how it ran- and what it might have looked like 100 years ago. Perhaps it is more accurate to say that I might be interested in not only 100 years prior, but certainly before the modern era of 4 lane Interstate Highways and even of the improved surfaces and routes which were put into place by the Federal Highway Act(s) of the 1910's &1920's (the effects and works lasting well into the 1930's) (#Sage). I have come to focus most of my energy on what is now U.S. Route 50, which crosses the nation from Ocean City, Maryland to Sacramento, CA (originally stretching to San Francisco).



Although U.S. 40 bears the moniker of "The National Road", and U.S. 30 has been christened "The Lincoln Highway", U.S. 50 is known affectionately as "The Loneliest Road in America" (at least it is so called in Nevada). U.S. 50 always has been, at least in this #author's opinion, a much more important and strategic roadway, if- for no other reason- than it truly connects east to west, and does so in such grand fashion that few other roads can maintain proximity to that claim of "greatness" that resides on and about U.S. 50. In any event, Route 50 is the LAST intact highway to link the two coasts. In so doing, it connects the Nation, and the American condition, as a whole. In truth, none of these roads had any official recognition at all, prior to their "Numbering" which was begun by the Federal Highway Act of 1921 and carried through fully in a provision in 1925 (Plaiss).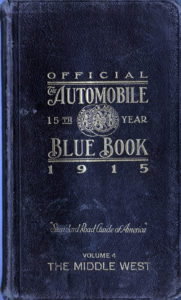 Prior to this, Route 50 and others were known by local "trail names" or were possibly numbered, however randomly. As an example, and as evidenced in the 1915 Blue Book, Volume 4 (which was the first standardized mapping effort to come about), the section of Highway 50 that I am speaking of today running from Cincinnati, OH to Seymour, IN was labeled Route 514, and stretched 93.3 miles (The Automobile Blue Book, Official 1915: A Touring Hand-Book of the Principal Automobile Routes in the Central States. Chicago: Automobile Blue Book Publishing Co, 1915. Print.).
Even still, why do I choose this particular road? The easiest answer is that it runs through #Indiana and my hometown of Seymour, IN- intersecting with U.S. 31- another notable highway in its own right. Even still, the study of the road, and more importantly, of the original locations and meanderings of the highway across Indiana, has morphed into what is at times, an un-natural obsession of mine. If, for no other reason than of wanting to know, I have come to decide that I must learn of and if possible see and hopefully to travel the now long forgotten and often non-existent routes. These routes were the forerunners of today's highway known to the thousands of uncaring travelers that speed upon her pavement in the present day. I'm confident that this type of traveler is the same type which sees no benefit in anything other than "getting there fast", and most likely has never spent a moment of reverent solitude in their lives.
Poor souls!
Over the last few years, I've made it my business to discover the portions of Route 50 across Indiana, and to try to travel them. One of the biggest and ever lingering questions while I do this is – "why"?
Why MUST I search out and try to travel, see, and feel these pathways of yesterday?
What is it that I am in search of? If it is merely the history of the road, then do I really need to see and "feel" every single bit of it, even of those parts of the road that are no longer there?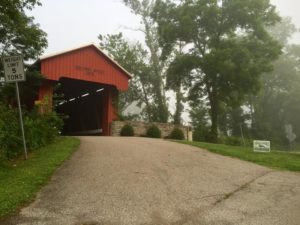 I've asked the question a million different ways, and the only answer that I can come to is that yes, I do need to visit and travel the original portions of this road; and, if those sections no longer exist- then I absolutely need to travel down the dead end gravel roads, and gaze upon the remnants of whatever pathway lay there- and these old road beds are always evident in the forested landscape that has swallowed them up
.
I have come to the conclusion that, for whatever reason, this road and the study of the road is so important to my being that to find and visit its beginnings is akin to finding old graves and at least knowing of the final resting places of our forefathers in general. In this manner, I feel strangely at home and calmed while visiting graveyards, especially the old and forgotten ones. They too- have been left to the weeds, no longer maintained by the Associations which were charged with their upkeep. The deceased, now no more than dust within withered grave clothes, bear the same witness as does the forgotten and by-passed roads of yesterday. Both men and roadways, though they now be dead, share the commonality of blazing the trails that we now follow as a progressed species. In this light, I find it not only comforting to visit the graves of both, but also re-assuring and necessary, so that while we plan the future, we may at least know some inkling of the past- and how this supposed and expected future of ours came to be.



The overgrown and dead roadway, parts of which cannot be found, and stretches of which are painfully visible, are identical in nature to the overgrown and forgotten dead which lay beneath weathered and illegible tombstones. Both have stories to share. While both may not have been human, there is a story that both will share, if we only listen; if we attempt to learn from them; if we bother to know who and where they were- how they lived- how they died.
Between the two– these roadways and the men that they carried throughout their lives and across the region– a pathway was envisioned, built, and then traveled which were new to them, just as our adventures for tomorrow are and will continue to be– new to us.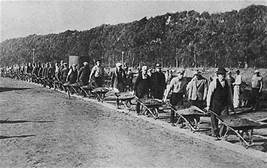 This is why I feel the need to know the routes I travel. I want to understand the placement of the pavement and of the bridges between any two particular points just as would prefer to understand some extent of my genealogy. This is not trivial in nature, but is a primal need. Just as we feel the need to move about, to feel freedom, to feel the breeze out the window; we also must understand where we- them- and those before us- came from; and exactly how did we get here. The answer to these questions will then help us to determine and to plan how we will get to wherever it is that we go to next.
The question AND the answers define us, and our existence.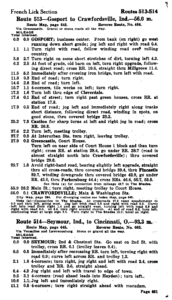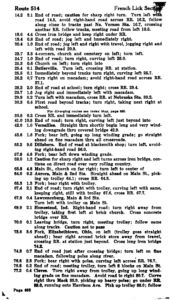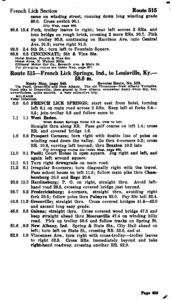 References:
Plaiss, Adam. "Who Gets to Draw the Map? The Contentious Creation of the American Road/Map System, 1917-1926." History and Technology 28.1 (2012): 5. Print. 2014.
Sage, #Jon #Patrick. A Brief History and Explanation: The Existence and Need of the United States Route Highway System, 1916-1930. Historical. Seymour: jonpatricksage.com, 2015. Web. <http://www.jonpatricksage.com/a-brief-history-and-explanation-the-existence-and-need-of-the-united-states-route-highway-system-1916-1930-2/#_ftn39>.
The Automobile Blue Book, Official 1915: A Touring Hand-Book of the Principal Automobile Routes in the Central States. Chicago: Automobile Blue Book Publishing Co, 1915. Print. Chicago: Automobile Blue Book Publishing Co, 1915, 1915. Print.