They know how to do it in California…
This sounds about right to me. In the time that I spent in San Francisco this last year, it was a common sight to see people taking in some sunlight, and reading a book while on their lunch break. In the Downtown area of the City, many sections are dedicated to this culture of gathering… socializing during a break and/or downtime. In time, I became comfortable enough to allow myself a minute or three to sit among the greenery, and enjoy the late summer time California sun on my shoulders- of course, while reading one of my favs. One one hand, you have the busy City buzzing around, with live cables underneath the pavement, pulling the trolleys up and down California St. On the other, you are lost in your own imagination, in one of the best spots on Earth, reading a book on a sometimes EX-tended lunch break!
I would imagine that it's not that different in Pleasanton, or Silicone Valley, San Jose… The attitude that pervades The City expands quite a ways out.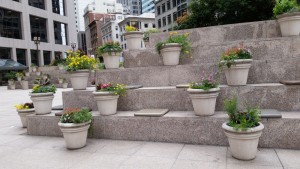 If you haven't had the pleasure, I highly recommend that you put these several things on your bucket list:
The City/Bay Area
Outside Seating
A Good Lunch
A Great Book!
From the article at the ContraCoastaTimes:
Tri-Valley A&E: Pleasanton, Danville Bookstores Find Mixing Lunch, Literature Draws Crowd
By: Lou Fancher, Correspondent; Posted: 03/08/2016  03: 47: 48 PST
At Towne Center Books in Pleasanton it's called "Read It and Eat." Over in Danville, Rakestraw Books owner Michael Barnard doesn't have a catchy title but says lunchtime author events "attract a different beast" than evening lectures in the Danville shop.
No matter what it's titled or what's on the menu, the daytime pairings of food, fiction or nonfiction authors and friendly socializing is undeniably entertainment. Attracting Tri-Valley literary lovers to the area's two independent bookstores in an increasingly digitized world, there's smug satisfaction in evidence that some things cannot be pixilated or delivered satisfactorily in "1 and 0" code.
"Around a table, there's so much more community and sharing than there is in a lecture hall or in group chats online," says Towne Center owner Judy Wheeler.
Begun 11 years ago, the monthly events have a devoted core of regular attendees, Wheeler says, but they also suit the authors and publishers. "In the Bay Area, there's a lot of competition for authors traveling on book tours. We were able to get more visits with this format."
Wheeler has also become a well-practiced amateur chef. "I've researched food from Iran for Seraji Mahbod ("Rooftops of Tehran") or cooked dishes from smaller Middle Eastern countries with spices I've not known about," she says. "When I read books now, I have a special place in my mind to store the food they include or the settings for food scenes."
Accommodating about 45 people, the menu has ranged from hot dogs on a grill to Japanese cuisine to a single radish served to each guest when Erika Mailman, author of "The Witch's Trinity," visited the store. "In 'Witch's Trinity,' people were starving," Wheeler explains, "the tables were bare, no tablecloths or dishes, just a radish at each place. We told them we were lucky because we found radishes."
Of course, a full meal was quickly served — but perhaps word of the slenderizing cabbage-family root vegetable luncheon spread because Wheeler says some authors say they will be sure to have characters eat nothing but steak in future novels.
Barnard doesn't tie his store's food and book lunch events thematically. "Generally speaking, I respect fiction too much for that. I don't want to make a book a theme park," he says. Like Wheeler, he sees the blending of like-minded readers as a way to create intimacy.
"In a smaller group, instead of being one of hundreds, you're one of dozens. One of the most important elements is that it's a great way to weave yourself more into your community. The guests meet other people who care about books. You create another way of being involved."
Because Wheeler tries to schedule the lunches several weeks or months after a book has been released, she says guests have often already read the book before the event. "They can talk intimately about the book and ask questions. For the authors, they aren't doing a cold call because they're talking with people familiar with the books."
At both stores, cookbook author appearances are entirely different affairs. Wheeler doesn't consider herself a good enough cook to prepare anything for a professional chef's visit and orders pastries or catered lunch box meals. Barnard says cookbook authors often prepare and showcase a set of their recipes for the "foodier crowds" attracted to their visits.
A look at upcoming Read It and Eat events at Towne Center Books has Lindsay Faye, author of "Jane Steele," a book set in Victorian England, appearing March 30.
"I'm not sure what we'll cook for Lindsay but there might be a pudding in there somewhere," says Wheeler.
An April 26 visit from "Daredevils" author Shawn Vestal, with a novel set mainly in southern Idaho and Utah, renders a spud-centric hint: "No doubt a potato will show up in some form on our table," she says.
Rakestraw packs the March/April calendar with an 11 a.m. special brunch Sunday featuring cookbook author-blogger Erin Gleeson and "The Forest Feast for Kids;" a noontime visit March 29 with novelist Helen Simonson ("The Summer Before the War"); and a debut release, "Tuesday Nights in 1980," from first-time novelist Molly Prentiss on April 15. Barnard says menu details are to be decided, but two things are certain: great writing will be foremost and, "You have to eat, so there's that, too."
Lou Fancher covers Tri- Valley Arts & Entertainment. Reach her at lou@johnsonandfancher.com.